How much money do you lose every day on your online store? 
If it takes too much time to load, even fractions of seconds, the answer is a lot (without even mentioning the impact of a slow webpage on its SEO).
In order to help you with the evaluation of your current performance, here are six free and premium tools that allow you to observe loading time, to identify the main problems to resolve, to monitor your progress and to compare your E-commerce website to your competitors'.
1) DareBoost
Dareboost analyses more than 100 points on your website and gives you a complete report on its performance and how to improve it:
Cache
SEO
Accessibility
Security
Number of requests
Display optimization
Those features are available in an unique/single tool, and does not require a setup or peculiar configurations. You can test your website on different browsers, locations and devices (PC, mobile), and consult your results in the blink of an eye.
The report generated allows you to target your priorities and to resolve problems that slow down your website's performance.
You also get precise and personalized technical advices:
Other pros (among the numerous features available): DareBoost insures the regular monitoring of your strategic webpages, reproduces the transactional path of your users and alerts you in case of a mistake.
2) Pingdom Tools
Pingdom Tools analyses the speed of a website and monitors its performance on a daily basis.
You just have to enter your website's URL to launch the test. Pick the closest city – Amsterdam for instance – to obtain the most relevant results according to your targeted market location.
Pingdom Tools gives you a performance mark and your rank according to the speed of the other tested websites.
As you can see on the screenshots, Pingdom Tools does not deliver only a view on the situation, but work leads to improve the speed of your website:
Which resources slow down the webpage the most?
Do you use a browser cache system?
Are your pictures optimized for the web?
Do you have a redirection problem?
Are some of your tools endangering your Magento-based website's performance?
Displaying a colourful and graphic-oriented interface, you can immediately identify the most urgent actions to take.
To go further, the premium version of Pingdom Tools can be really useful. It starts from less than $15 per year and a free month to begin with.
In addition to the previous features, you will receive alerts if your website is down, use a monitoring tool of your visitors in real-time, compare the evolution of your performance with a detailed history/track of record, follow carefully the steps of your most important funnels…
Website (free and premium version for less than $15/month)
3) Google PageSpeed Insights
As its name suggests, Google PageSpeed Insights is a free tool by Google in order to evaluate the performance of your website.
Even though it doesn't give proper load time of your website, the main interest of this solution is twofold: mobile webpage and computer version. It allows you to prioritize your website's performance enhancement.
Recommendations are sorted by topic – speed, UX, and by order of priority – from the most important rules to approved ones. Rules refer to the facts taken into account to evaluate your website.
These screenshots of an analysis show you what you should expect: image optimization, Javascript and CSS size and resources management. It's relatively basic information, but you can click on suggestions to learn more about how you can handle it.
4) GTmetrix (PRO version recommended)
GTmetrix has a significant advantage: it can analyze your website combining Google PageSpeed and YSlow.
You get complete reports about regarding the speed of your website, your different scores, but also about 30 criteria to follow and to improve to insure better performances of your e-commerce online store.
Like other speed tools, results display allow you to rapidly identify urgent actions:
Here, for instance, image optimization looks like the simplest task to begin with, taking into account the three Es that can be enhanced very quickly.
If you want to get the best use out of GTmetrix, the best thing to do is to subscribe to a PRO subscription (from $14,95/month).
This subscription allows you to choose the location of the test server: if you are located in Europe, London looks like the best option (it is set to Vancouver by default).
PRO subscriptions give you access to a large number of features, among which exportable detailed reports, website monitoring, tests from multiple locations in the world, creation of video reports to visualize load time step by step, multiple browser website versions, custom alerts set up…
5) Which loads faster ?
The aim of this tool is to compare the load time of two different websites to position yourself on the market.
It's simple : you just have to enter the two URLs to get the results. However, forget about the detailed advices of the other tools: Which loads faster is rather useful for speed comparison than to give you real hints to make optimization.
An overview of the comparison between Le Monde and Le Figaro websites
6) YSlow (extension)
YSlow is interesting as it is an extension to add to your browser.
It analyses your performance owing to 34 criteria that constitute a matrix:
Here is the display of the tool:
(c)YSlow
We have already presented six tools which can greatly improve your online performance.. But let us not forget about the most important one: Quanta!
7) Quanta
Quanta is a SaaS solution dedicated to E-merchants and E-commerce Directors looking for a better understanding of the performance of their website. By rendering complex data easily understood thanks to an interactive interface, it allows them to set clear and concrete goals to tackle their website performance.
How does it work? Quanta simulates the purchasing route of a user (what we call a 'web scenario') to monitor the speed of each page. The analysis is performed every minute to measure speed variations and potential bottlenecks/incidents occurring during the sales process. The tool also offers an integrated Magento profiler (more CMS profilers to come) designed to target the elements that should be improved.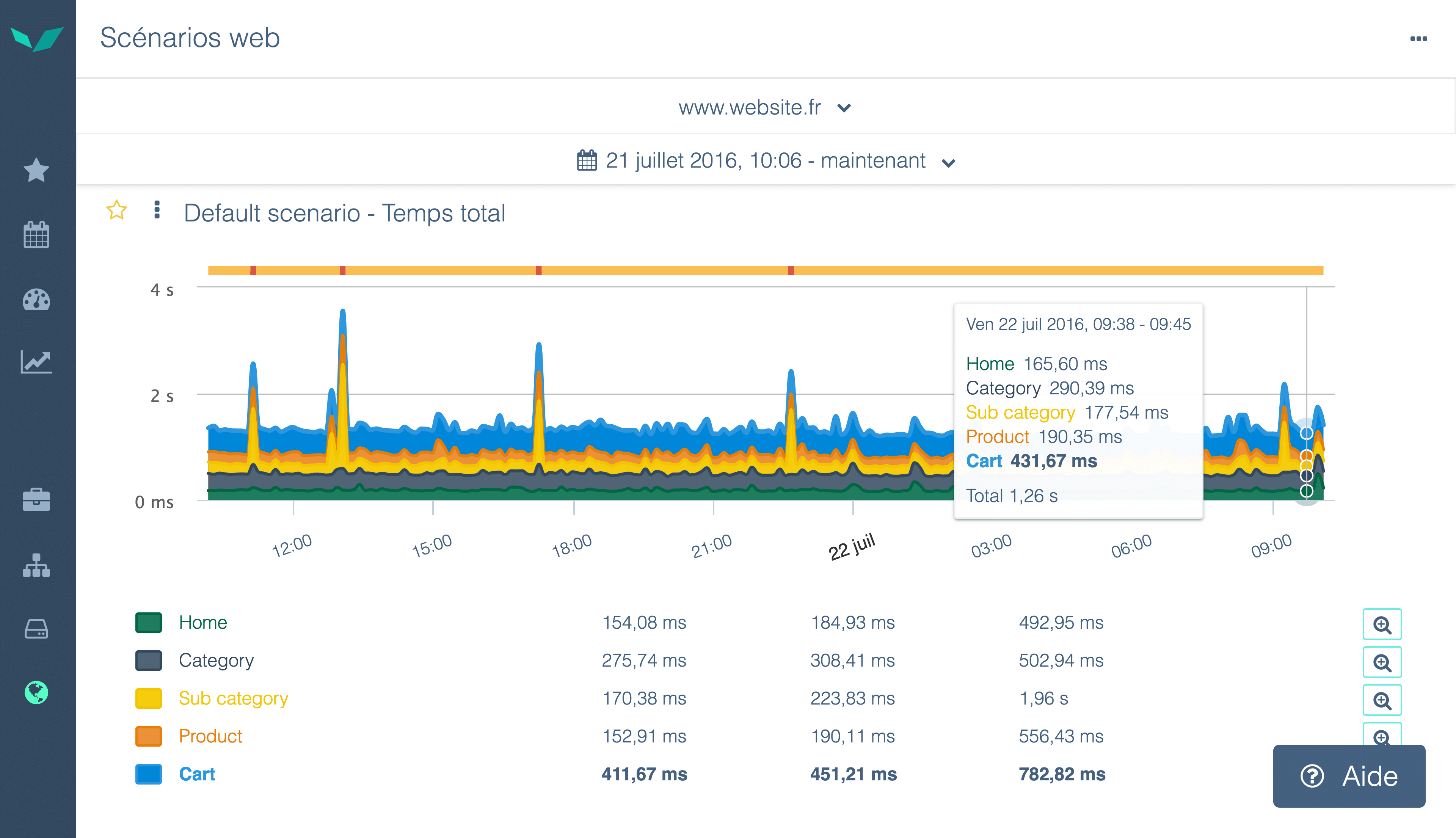 Your website is too slow? React now!