As I've announced it on Twitter, QUANTA is at MagentoLive Australia 2016!!!!
It's a pretty cool conference, with people coming from all around the globe. Many come from different parts of the US (It was good to see those faces from Imagine Commerce! 😉 ), some others come from Asia, and of course… You can hear a lot of OZ accent. 🙂
Even if I love Sydney, the sun and baby koalas, the aim in coming here was to meet our partners, to connect with other technology providers, and of course to continue to spread the word on Performance Analytics, here in Australia!
During this first hectic day, between two meetups and a run through the hallways, I had the chance to attend several great presentations, by Steve YANKOVICH, Mark LAVELLE, and Robert MOORE. So, to give you a little taste of my Australian experience, here are some feedbacks!
Steve Yankovich
CPO, Magento Commerce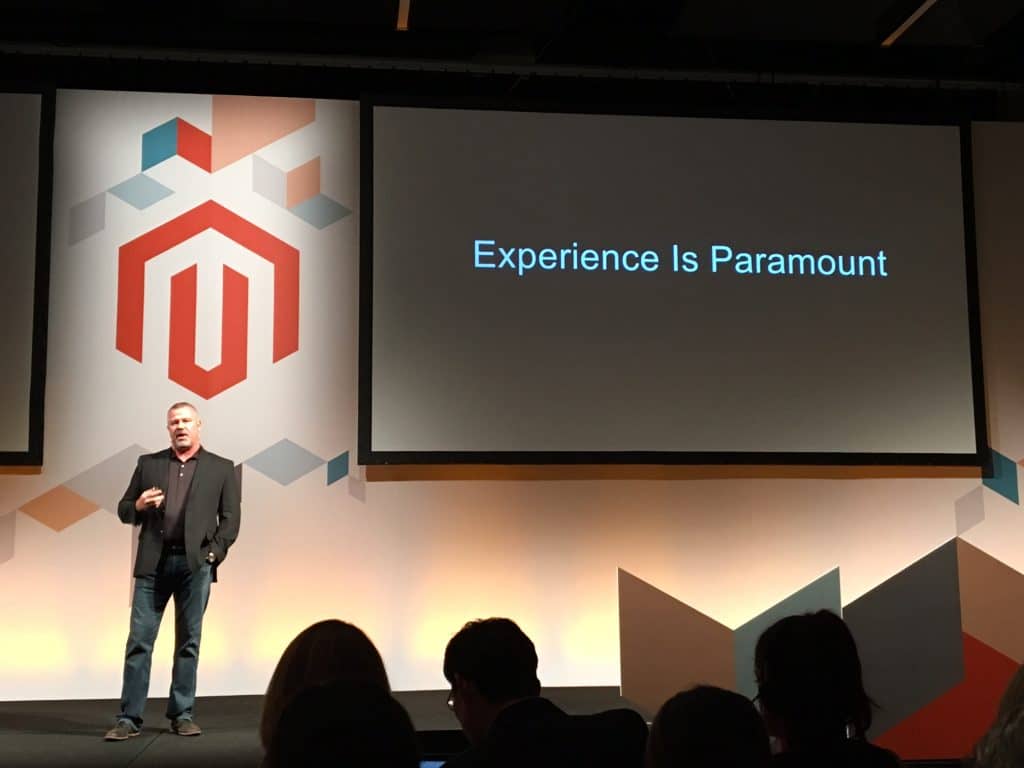 Steve Yankovich is the freshly arrived CPO of Magento Commerce. During his conference, he talked about the future of commerce, and how new technologies like A.I. or Predictive Analytics are likely to bring about major changes in the field.  Following this idea, he insisted on the fact that, rather than being a trend follower, Magento's new direction would be to take a major role in creating the technologies of the future.
And we can clearly see that they've already begun their quest for new cutting edge technology. In 2016, Magento acquired RJ Metrics (renamed Magento Analytics) to push further away the boundaries of predictive analysis.
I find this move particularly interesting, considering that we, at QUANTA, strongly share that vision of the future of commerce. For example, last month, we released a predictive business dashboard, giving crucial informations for e-businesses, like the actual turnover that future optimisation of the e-store will bring in the next year.
On this note, we'll soon do a case study on the results of the utilisation of QUANTA's predictive dashboard by one of our major clients. So, stay tuned!
Mark Lavelle
CEO, Magento Commerce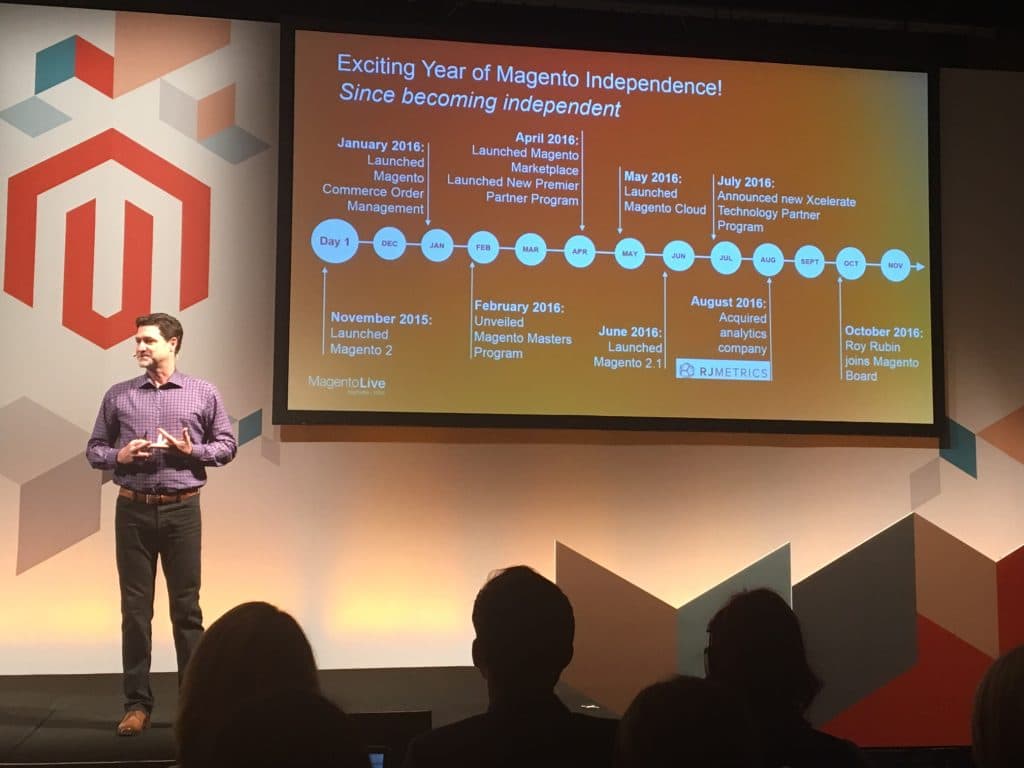 Mark was probably fighting the jetlag as much as we were 😉 But he talked about the steps that Magento took, since they became independent. I admit that Magento is moving forward in an interesting direction, especially in the field of Analytics solutions.
Considering that web performance and predictive analysis are fundamental for the success of e-businesses, you'll soon find articles on the subject on our blog! 🙂
Robert Moore
Head of Magento Analytics, Magento Commerce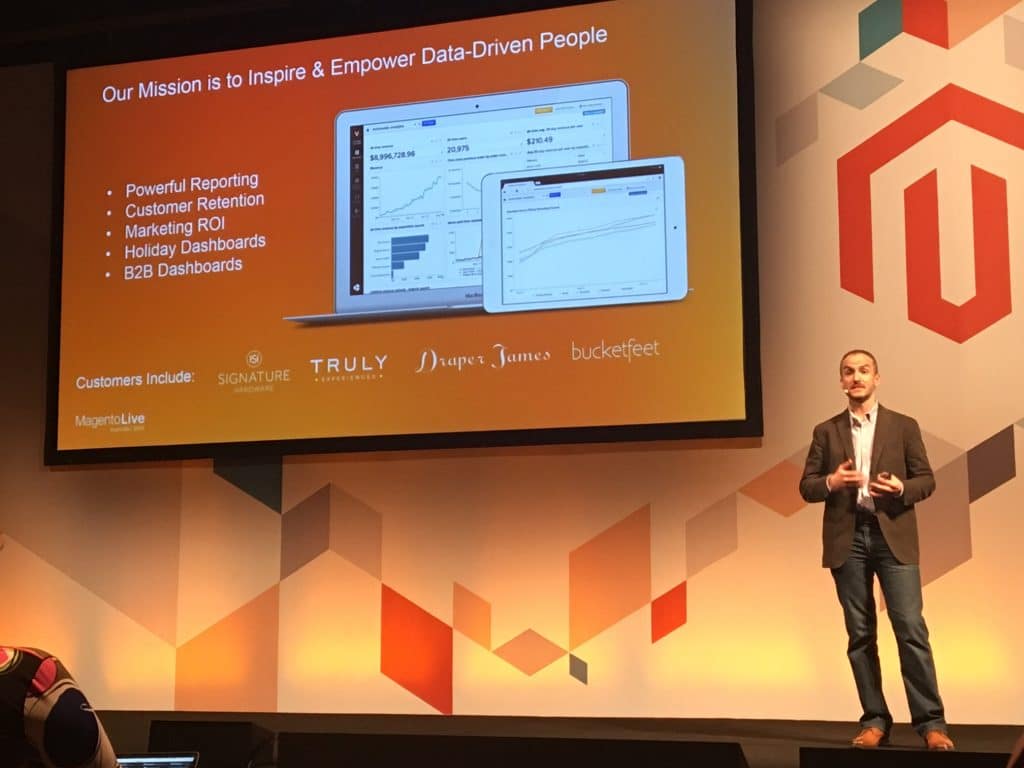 Former Founder of RJ Metrics, Robert explained (at a very brisk pace!!) his vision on Analytics. Volumes of data have exploded, and it is more than ever complicated for marketing teams to focus on what matters the most, when they are buried under piles of numbers and pointless analysis.
Today, having the data is useless. The key is to be able to get business owners to focus on the relevant one.
And that's it for my first day at MagentoLive Australia! I met the Magento Analytics team after the conference, and we definitely share the same vision. It is time to better connect the dots together, and find innovative ways to use the massive volume of data generated by e-commerce.
Bonus: A cute koala!! And yes, he also seems jet-lagged XD