Quanta has always aimed to support digital teams in the Web Performance Management. In 5 years, we established ourselves as reference in the French market by attracting more than 500 sites. Loyal to our ambition of always better meeting the needs and expectations of our customers, we place Real User Monitoring (RUM) at the heart of our strategy in 2018 by acquiring the WebPerf.io solution.

The acquisition of WebPerf.io to meet a growing market demand
Our mission has always been to offer the Digital, Marketing and E-Commerce Departments a global solution for Web Performance Management.
Following a growing demand from the market and our customers, we wanted to integrate a feature of Real User Monitoring to offer an new dimension in the web performance analysis by integrating the navigation data of real users. WebPerf.io, which has become, in the past years, a reference in the identification and analysis of visitor segments, was therefore the ideal solution to integrate. This new acquisition will allow us to respond more quickly and efficiently to market demands.
Real User Monitoring, a complementary feature to offer a 360° Web Performance solution
Until now, we have been following a Web Performance approach by simulating navigation scenarios for defined virtual users. The objective is to follow the evolution of the response times of a purchase scenario for example, without any effects of external factors.
This approach of STM (Synthetic Transaction Monitoring) is typically useful for measuring the impact of a change on web sites. It is precious to settle a process of continuous improvement since the measurements are calibrated and comparable, vs the RUM where each user has its own configuration that impacts the results.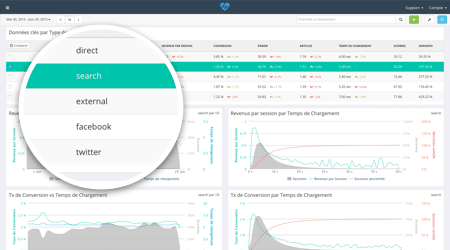 The RUM enables to follow the Web Performance and to measure how each elements impacts on the conversion rates for a specific segment of real users. It is now possible to know, for example, that a new feature creates slowdowns for a strategic mobile user segment. Quanta will then offer a 360° view of the Web Performance of a site by offering Analytics and Alerting Business functionalities, Web Performance management, communication between the different actors of the site and from now on Real User Monitoring (RUM).
Our technical team is working hard to integrate the WebPerf.io solution. A private BETA program should be launched soon. To find out more, do not hesitate to contact us!