We were waiting for it and, finally, here it comes!
It's time for Quanta to hit the road and fly to Las Vegas, Nevada, for the amazing Magento event: Imagine 2017!
Let us take 5min to review why this is such good news (and why we're oh so very happy to be going). 😉
Reason 1: Imagine is a reference in terms of international e-commerce related event
Imagine brings together more than 2,500 merchants, partners, developers, and commerce experts from more than 40 countries.
The whole Magento community meets there every year. So it's a great opportunity for executives, marketers, developers, companies and technology innovators to network, and share the latest tendencies, technologies and strategies in shaping the e-commerce of tomorrow.
For Quanta, it is also a great way to connect with our worldwide customers and partners.
This conference will be one more in a long list of Magento events to which we went. To name a few: Magento Live UK, Bargento, Meet Magento Italy, Magento Live France, Imagine Commerce (we hosted a panel there, blog post here), Meet Magento Germany… and not long ago Magento Live Australia (if you want to read more about Guillaume's adventures in the land of e-commerce and kangaroos, just click here).
Reason 2: Look at all these amazing conferences and speakers
First thing first, can we take a look at who is delivering the keynote address ? Serena Williams. Yes!
Serena is not only an incredible tennis player ranked Number 1 internationally but she's also involved with many charities dealing with sports, inclusion, and more importantly, women empowerment. She's the perfect example for this new generation of strong-willed women that take the world of digital and technical innovations by storm.
On a more serious note, apart from the keynotes, and many forums, we're really looking forward to conferences like :
"Optimizing Magento Application Performance in the Cloud and Beyond", by Beau SIMENSEN, Technical Product Manager at SensioLabs US. Directly striking Quanta's web performance cord, this conference will take a tech look at the performance optimization tools that come standard in the Magento Cloud Edition.
"Increasing Diversity in Tech", by Alaina PERCIVAL, CEO of Women Who Code. This conference will explore the subjects of inclusion, gender equality, and how the diversification of profiles in teams can directly impact the ROI of a company.
"Sweetening the Deal: Growing with MailChimp's Multichannel Features", by Tony SIMON, Head of Strategic Partnerships at MailChimp. This conference is a case study with Gauge Interactive, on how they are using the new MailChimp multichannel features.
But of course, the main purpose behind going to Imagine is to be able to meet new tech entrepreneurs, and to discover the innovative tendencies of tomorrow regarding e-commerce, web performance and optimization. If you'd like to meet us, just send us an email at hello@quanta-computing.com.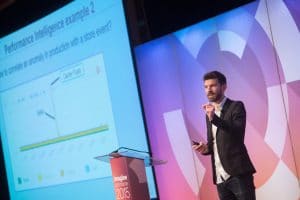 Guillaume, Co-founder @Quanta
Reason 3: Well, because there are still too much brands that don't know how to handle web performance
With the experience of more than 450 e-commerce sites monitored, we made 3 major observations:
Internet users have become increasingly impatient, making the level of instantness to be reached ever so high.
The heads of e-commerce have to drive the web performance among many other subjects, all of which are time consuming. Therefore, it is essential for them to have indicators to make the right strategic decisions quickly.
Too many sites still miss the web performance boat, in piling up the apps they use to achieve it.
Based on these findings, Quanta's team spent 4 and a half years of R&D to build a tool for brands, web agencies and web hosts, which allows them:
To analyze in real time the web performance of e-commerce websites,
To identify, through algorithms, which are the optimizations that have the highest chance of return on investment,
And above all, to share the right information with all the teams at the same time.
So it is important for us to be at Imagine 2017, to present how leading brands in Europe are now driving their Web Performance with Quanta to e-commerce enthusiasts, and to meet with other disruptive tech teams that have the betterment of e-commerce to heart.